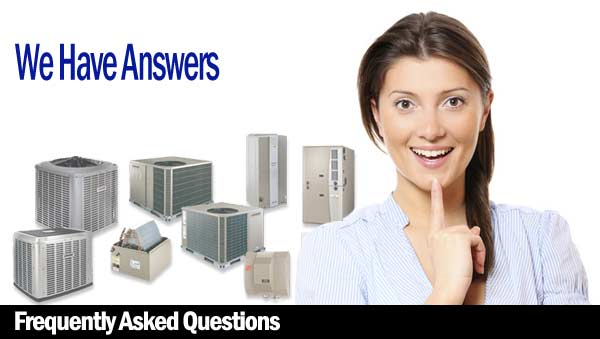 I need to replace my furnace. What is the most important thing to consider?
The most important thing to consider when replacing your furnace is to make sure the furnace is the correct size for your home. If the furnace is too large the house heats quickly, too quickly, then turns off. If the furnace is to small it will not keep the house warm enough when the weather is cold.
When we recommend a replacement furnace we conduct a heat loss calculation called a Manual J Calculation to size your furnace and cooling product recommendation.
Manual J and Manual D: The Correct Way to Size a System
Correct system sizing requires considering many factors other than simply reading the nameplate of the existing unit. Key factors for correctly sizing a heating and cooling system include the following:
The local climate
Size, shape, and orientation of the house
Insulation levels
Window area, location, and type
Air infiltration rates
The number and ages of occupants
Occupant comfort preferences
The types and efficiencies of lights and major home appliances (which give off heat).
Homeowners should insist that contractors use a correct sizing calculation before signing a contract. This service is often offered at little or no cost to homeowners by gas and electric utilities, major heating equipment manufacturers, and conscientious heating and air conditioning contractors.
What are some DIY tips for maintaining my furnace?
Regularly inspect certain items and follow common procedures. The tips below should keep your furnace operating more efficiently and and safely.
    Inspect the furnace filters monthly and replace as necessary during the heating season
    Inspect the fan belts for cracks and signs of disintegration
    Make sure the vents and air return vents are clear of obstructions
    Check chimney and venting systems once a year for secure fittings, leaks, and no corrosion or damage
    Keep area around furnace clean and clutter-free
    Do not enclose the furnace in a small closet or  make the room it is located in too air-tight. Your furnace needs breathing room.
When should I replace my furnace?
If you have had repairs on your aging furnace and are facing yet another expensive repair bill you may want to start doing something about replacing your furnace. It is always better to be able to shop different manufacturers, do some research on the internet and consult with a heating and cooling professional before your furnace breaks down permanently. An investment in a new furnace is something you want to do when you are not in an emergency situation.
These symptoms can indicate a furnace should be replaced:
    Frequent pilot light outages
    Delayed ignition
    Yellow flame or wavering flame
    Excessive soot or corrosion
    Too much or too little heat
    The smell of sulfur or burnt eggs
How long will my furnace last?
You can expect a gas furnace to last for as many as 20-25 years.
What is the best way to run air conditioner?
The biggest mistake people make during the hottest days of summer is to run their air conditioner during the day and then open their windows at night. Part of the work an air conditioner does is to remove humidity from the air – moisture. The moisture in the air increases at night because generally the night air is cooler.  If you open your windows at night the next day the air conditioner has to work harder to remove the humidity. Opening windows at night when you are running an air conditioner during the day will reduce your energy efficiency causing higher utility bills.
How important is the sizing of an air conditioner?
The sizing of an air conditioner is extremely important. I the air conditioner is too small it cannot cool the air in the hot summer months. If the air conditioner is too large your rooms will be cool but the air will feel cold and clammy because the humidity has not been removed – the rooms have been cooled too fast. It is important to have a heating and cooling professional properly "size" your air conditioning unit before your purchase.
Cool Fact: Air conditioners should be able to maintain a cool 20 degrees below the outside temperature.
How long will my air conditioner last?
In Michigan you can expect your air conditioner to last 12-15 years.
Have their been any improvements in air conditioning technology?
Air conditioning refrigerant has recently switched to a more environmentally friendly non-CFC coolant such as Puron. In the future all air conditioning will be required to use non-CFC refrigerants.
Can you explain air conditioner energy efficiency?
Air conditioners have a  Seasonal Energy Efficiency Rating (SEER). In the 1970s most air conditioners had a SEER Rating of 6. Today the standard SEER for most air conditioners is 10. These days people are looking for an energy efficient air conditioner and the most energy efficient air conditioner will have a  SEER  of 12 or 13.
We can show you the initial investment for the energy efficient air conditioner and the energy savings for that air conditioner. Then you can make an intelligent decision on which air conditioner to purchase.
Should I have my ducts cleaned?
A maze of heating and air conditioning ducts runs inside the walls and floors of 80 percent of American homes. As the supply ducts blow air into the rooms, return ducts inhale airborne dust and suck it back into the blower. Add moisture to this mixture and you've got a breeding ground for allergy-inducing molds, mites and bacteria. Many filters commonly used today can't keep dust and debris from streaming into the air and over time sizable accumulations can form — think dust bunnies, but bigger.
To find out if your ducts need cleaning, pull off some supply and return registers and take a look.
If a new furnace is being installed, you should probably invest in a duct cleaning at the same time, because chances are the new blower will be more powerful than the old one and will stir up a lot of dust.
Professional duct cleaners tout such benefits as cleaner indoor air, longer equipment life and lower energy costs. Clean HVAC systems can also perform more efficiently, which may decrease energy costs, and last longer, reducing the need for costly replacement or repairs. Cleaning has little effect on air quality, primarily because most indoor dust drifts in from the outdoors. But it does get rid of the stuff that mold and bacteria grow on, and that means less of it gets airborne, a boon to allergy sufferers.
What is the best kind of filter?
Most houses with forced-air furnaces have a standard furnace filter made from loosely woven spun-glass fibers designed to keep it and its ductwork clean. Unfortunately, they don't improve indoor air quality. That takes a media filter, which sits in between the main return duct and the blower cabinet. Made of a deeply pleated, paper-like material, media filters are at least seven times better than a standard filter at removing dust and other particles. An upgrade to a pleated media filter will cleanse the air of everything from insecticide dust to flu viruses. Compressed, media filters are usually no wider than six inches, but the pleated material can cover up to 75 square feet when stretched out. This increased area of filtration accounts for the filter's long life, which can exceed two years. The only drawback to a media filter is its tight weave, which can restrict a furnace's ability to blow air through the house. To insure a steady, strong airflow through the house, choose a filter that matches your blower's capacity.
What are some preventative maintenance things I should be aware of?
With the proper attention, heating and cooling systems can keep you comfortable year-round. Heat pumps and oil-fired furnaces and boilers need a yearly professional tune-up. Gas-fired equipment, on the other hand, burns cleaner and can be serviced every other year. A close inspection will uncover leaks, soot, rust, rot, corroded electrical contacts and frayed wires. In furnace (forced-air) and boiler (hot-water) systems, the inspection should also cover the chimney, ductwork or pipes, dampers or valves, blower or pump, registers or radiators, the fuel line and the gas meter or oil tank — as well as every part of the furnace or boiler itself.
Next, the system should be run through a full heating cycle to ensure that it has plenty of combustion air and chimney draft. Finally, cleaning the burner and heat exchanger to remove soot and other gunk will prevent such buildup from impeding smooth operation. For the burner, efficiency hinges on adjusting the flame to the right size and color, adjusting the flow of gas or changing the fuel filter in an oil-fired system. A check of the heat pump should include an inspection of the compressor, fan, indoor and outdoor coils and refrigerant lines. Indoor and outdoor coils should be cleaned, and the refrigerant pressure should be checked.
Do you have some maintenance tops for my air conditioner?
Why should I replace my existing heating or air conditioning system?
You may wish to consider replacing your air conditioning or heating system if it is old, inefficient or in need of repair. Today's systems are as much as 60% more efficient than those systems manufactured as little as ten years ago. In addition, if not properly maintained, wear and tear on a system can reduce the efficiency of the system.
If you are concerned about energy savings or are faced with an expensive repair, you may want to consider replacing your system rather than enduring another costly season or paying to replace an expensive component.
The energy cost savings of a new unit may provide an attractive return on your investment. If you plan on financing the purchase, the monthly savings on your utility bill should be considered when determining the actual monthly cost of replacing a system. The offsetting savings may permit you to purchase a more efficient system.
When should I replace my air conditioner?
The average central air conditioner lasts 12-15 years while the average room air conditioner lasts 10 years. When your air conditioner passes its life expectancy you may want to begin gathering information  and doing internet research on which brands of equipment you may be interested in and talk to a heating and cooling professional. Installing your air conditioner in a shady spot can give you an energy savings of 1-2% on your energy bill.
What is involved in installing a new heating and cooling system besides the equipment?
Besides the equipment, the most significant component of installing a new heating and cooling system is ductwork. The ductwork can be made of either metal or fiberglass. The ductwork needs to be properly sized to deliver the right amount of air to each room. The ductwork consists of supply and return ductwork. The supply duct is attached to the outlet of the furnace or air handler and delivers air to individual zones in your home.
How expensive are new air conditioning and heating systems?
Many factors affect the cost of a new  heating or air conditioning system, including:
The size of your home
The type and condition of the ductwork installed
Accessories you might need such as a thermostat or an electronic air cleaner
We have a complete range of systems and accessories available to meet all your needs, including your financial ones! We can assist you in finding the right system to meet not only your comfort needs but also your household budget.
Brands
Ruud, Rheem, Luxaire, Trane, Fujitsu
Products
Furnaces, Air Conditioners, Water Heaters, Mini Splits, Heat Pumps, Filters, Humidifiers, Programable Thermostats
Areas Serviced
Livonia and Surrounding Areas